Clinic Address: 210 – 1506 11 Ave SW, Calgary, AB, T3C 0M9
Bing MD shares office space with the Sunalta Medical Clinic in the Real Estate Council of Alberta building at the corner of 11 Ave SW and 14 St SW.
Free underground parking is available in the rear of the building, accessed by entering the alley from 14 St SW (going south) or from 15 St SW, 1 block to the west. Free 2-hour street parking is also available in the vicinity of the clinic.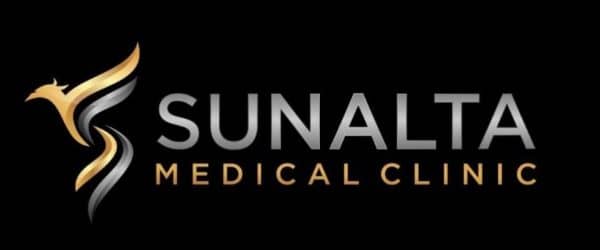 Take the elevator to Level 2, then turn left around the corner until you see the waiting room of the Sunalta Medical Clinic.
On arrival to the clinic, please tell the receptionist you're here to see Dr. Wu.
One of 2 bright, airy exam rooms with terrific city views.
Diesel is a super friendly dog who loves patients and staff alike. He's occasionally in the office, and generally stays in the staff area, however if you say his name or mention that you like dogs, don't be surprised if he comes to say hello.
Getting into the Underground Parking Garage
As of June 2022, there is a lot of construction going on in the vicinity of the clinic with some road closures on 10 Ave SW and 15 St SW, which may affect your ability to get into the underground parking garage.
Access to the underground parking garage is from the alley behind the building. Access to this alley is currently open when driving south on 14 St, but may be more difficult for those coming from other directions. In that case, it may be easier to park on the street (see map for free street parking locations).
If parking in the underground garage, please ensure you're in a space designated "Sunalta Medical Clinic Parking."
Note: Maximum clearance is 6'6″ in the garage so if you have a very tall vehicle, you may want to park on the street instead.